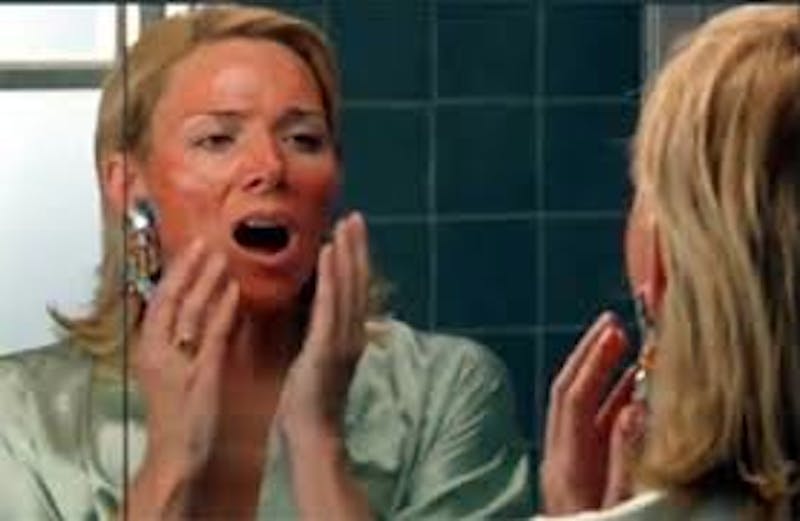 For many clients, the word "chemical peel" inevitably evokes the terrifying image of Samantha from "Sex and the City" with a red, raw, blistered face after her plastic surgeon suggests a peel to improve her skin- right before a big event! It is images like this, along with a tremendous amount of misinformation readily available on the internet that have sent people running straight for the hills at the mere thought of a chemical peel for the better part of the past decade. Peels have evolved drastically over the past several years and have proven to be a highly recommended treatment option for a variety of skin concerns. Chemical peels help to improve skin texture, treat acne, fight aging, reduce pigmentation and sun damage as well as help hydrate the skin. So why are so many patients still apprehensive to have these beneficial treatments?? IT'S TIME TO SET THE RECORD STRAIGHT! Let's clear up many of the misconceptions surrounding chemical peels:
Myth #1
"My skin will heavily "peel" after having a chemical peel treatment"
"Chemical Peel" by definition is the use of an acid or chemical solution to exfoliate and remove the top layers of dead skin. This process may or may NOT produce a peeling response. Visible peeling does not determine the efficacy of the treatment. Peeling is merely a possible side effect of a chemical. Meaning you do not need to peel heavily in order for the treatment to be effective. Many of the chemical peels now used by estheticians are formulated to create changes at the cellular level so that you can experience results without having to experience heavy peeling and downtime. The amount of peeling that a patient experiences depends on the current condition of their skin and sensitivity level, as well as the strength of the peel performed. Both of these factors should be discussed prior to the treatment and the appropriate peel can be chosen based on what the patient is hoping to achieve as it aligns with the esthetician's recommandations.
Myth #2
People with sensitive skin cannot receive chemical peels
It is often assumed that if you have sensitive skin or have skin conditions such as rosacea that you are not a candidate for chemical peels. There are several types of peels that are SPECIFICALLY formulated for sensitive and rosacea-prone skin. These formulas often include acids and ingredients that help to calm the inflammation associated with sensitive skin, as well as strengthen capillary walls to reduce redness and the visibility of broken capillaries. Certain sensitive skin peels can help to provide a form of lymphatic drainage to eliminate the bacteria that exists on the surface of the skin causing rosacea-related redness and irritation.
Myth #3
One chemical peel will resolve my skin issues
Chemical peels are always more effective when done in a series. While a patient is likely to see marginal results after their initial treatment, it is ALWAYS recommended that they complete a series in order to see optimal results. A series of 6-8 peel treatments spaced 4-6 weeks apart is a typical treatment plan for most skin concerns. Staying on your recommended peel schedule is critical in order to achieve desired results as well as maintaining those results.
Myth #4
I should expect to experience the same outcome and response each time I receive a peel
It is not uncommon for a patient to experience different responses to the same peel throughout their treatment series. A patient's response to a peel can depend on a number of different factors including weather/time of year, condition/health of patient's skin, patient's overall skin tolerance, frequency of peel treatments, and skin care regimen. All of these factors can impact whether a patient has a strong response to a peel treatment or a mild one. A patient should not question the efficacy of their treatment if they experience a slightly different response to the same treatment.
Myth #5
I should expect a tremendous amount of redness and irritation after having a peel
Patients can experience mild redness and irritation post peel but it is not inevitable. There are easy and accessible remedies that can be used to alleviate any minor redness that accompanies a peel. A patient should not experience severe irritation, discomfort or scabbing following a peel treatment.
Myth #6
All peels are created equal
There are many different types of peels and each are indicated for specific skin concerns and conditions. For instance, if you experience breakouts and have acne prone skin there are certain peels that are more appropriate for your skin type than if you were concerned with anti-aging and skin texture. It is best to consult with your skin care professional to help you decide the most appropriate chemical peel treatment in effort to achieve the best results.
Myth #7
Only people with problem skin should do chemical peels
While chemical peels are very effective at resolving skin imperfections, they are also helpful at maintaining skin health and appearance. In other words, if you are satisfied with your skin appearance, chemical peels can be used as a treatment option to help restore your healthy skin and prevent things like aging, clogged pores, dull skin and uneven skin tone. Mild regular peels are a fantastic way to keep skin looking smooth, healthy and hydrated.
Myth #8
If I break out after a peel, it is an indication that I am having a reaction or my skin care professional did something wrong.
It is NOT uncommon to experience a breakout after a peel. Because peels are a form of exfoliation, they often bring things to the surface of the skin and cause a purging of the pores. While breakouts are unpleasant, they are often temporary and a necessary part of the peel process in order to resurface the skin and achieve desired results.
Myth #9
People with dry skin should not do chemical peels
Chemical Peels are a tremendously effective way to treat dry skin. The removal of dead skin allows for the restoration of the skin's natural moisture barrier as well as the improvement of product penetration of your moisturizers and other hydrating products.
Myth #10
My skin care regimen has no effect on my skin's response to a chemical peel.
Your at-home skin care regimen has everything to do with your skin health and therefore directly effects your skin's response to a peel and the level of results achieved. Just as chemical peels will allow your at-home products to work more efficiently, following an appropriate at-home regimen will continue to condition your skin and improve your skin response to your regular chemical peel treatments.
Schedule a skin consultation at Gold Coast Plastic Surgery today and speak to our Esthetician, Erica Haynes, to determine which chemical peel treatment is right for your skin!