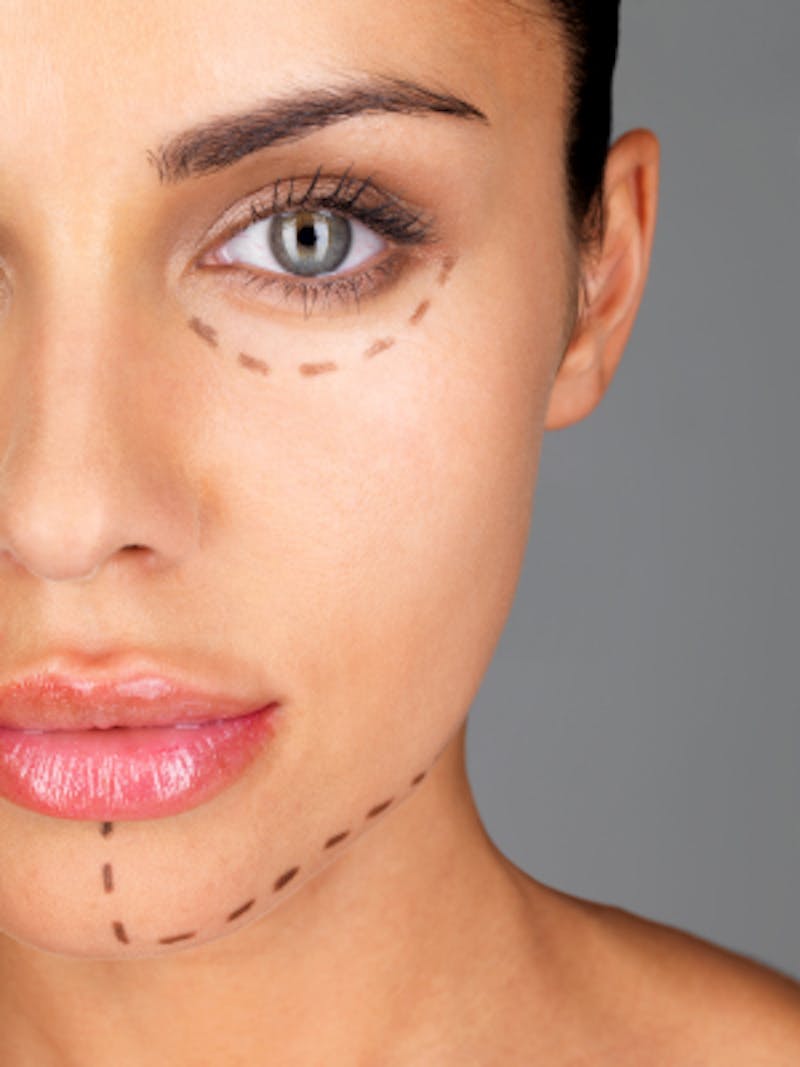 Both the mini face lift and the full face lift offer patients a rejuvenated and more youthful appearance by treating sagging facial muscles that can lead to deep creases as well as excess fatty deposits in the midface and/or neck area. If you are just beginning to notice visible signs of aging or you have been contemplating face lift surgery for a while, take a few minutes to review some of the common differences between the mini face lift and the full face lift to help you consider the more effective treatment option to address your individual needs.
Mini Face Lift
The mini face lift evolved to target specific areas of the face while providing a quicker, less invasive procedure and a shorter recovery period. The mini face lift utilizes smaller incisions, often including endoscopic techniques to remove facial tissue and reposition or tighten facial muscles. During an endoscopic procedure, the surgeon inserts a tiny camera probe through small incisions in the face to navigate and view underlying tissue and muscle. He/she then uses surgical tools through these small incisions to remove excess fatty tissue and tighten targeted facial muscles.
The mini face lift is performed as an outpatient procedure under local anesthesia and with sedation if preferred. Depending on the extent of work desired, the mini face lift can take anywhere between 45 minutes and three hours. Patients are able to return home the same day as surgery, wearing hospital bandages for the first 48 hours. Minor to moderate facial tenderness, swelling and bruising is to be expected. Compression garments can be worn to control post surgery swelling.
Suture removal takes place in your doctor's office after one week. Most patients return to work within one week's time if not sooner. Aside from a short recovery period, another clear benefit of the mini face lift is cost. Because the procedure is "mini", it is about half the price of the full face lift, ranging from approximately $3,500 -$7,000. Ideal candidates are individuals in their 30's and 40's who are looking to diminish the first signs of aging, minimal sagging and subtle creases of the midface and cheek area. As long as body weight remains stable, the benefits of a mini face lift can be appreciated for five to seven years
Full Face Lift
For individuals looking to address more severe facial sagging and loss of muscle tone, the traditional face lift can provide optimal benefits. A conventional face lift is generally performed as a three- to five-hour procedure under general anesthesia. The surgeon makes an incision at the temples in the hairline and continues in front of and around the ear to the lower scalp. He/she then elevates the top layer of facial skin and uses a scalpel and/or surgical scissors to excise underlying facial tissue. The appropriate facial muscles are then tightened and secured with dissolvable sutures and the skin is closed with incision staples or stitches.
The recovery period includes tender skin, moderate facial bruising and swelling for about four to six weeks. Most patients can return to work and social activities in as little as two weeks, but some feel more comfortable taking extra time for swelling to subside. Any sutures that need to be removed are done so at your doctor's office one week post surgery. There are more restrictions and preparation guidelines involved with full face lift procedures. The cost for a traditional face lift in the U.S. ranges from approximately $7,000 – $15,000.
Ideal candidates for the full face lift are older individuals with deeper creasing and sagging in the midface and/or significant sagging skin folds throughout the chin and neck. Patients can see dramatic results after full healing has taken place or in approximately three months post surgery. While even the most invasive face lift procedure cannot change one's genetics or stop the aging process, the benefits of a full face lift are essentially permanent and can help restore your appearance by making you look ten to even twenty years younger!
If you are considering face lift surgery, trust your face to distinguished facial plastic surgeon Dr. George T. Moynihan. Dr. Moynihan specializes in cosmetic plastic surgery of the face, nose, eyes, neck and scalp with additional cosmetic surgery training at the prestigious Rousso Facial Plastic Surgery Center in Birmingham, Alabama. Dr. Moynihan routinely performs both the mini face lift and full face lift procedures in an outpatient surgical center using local anesthesia with or without sedation. During your initial face lift consultation, Dr. Moynihan will perform your unique facial analysis, review your medical history and discuss your cosmetic goals. His technique for face lift surgery is appropriately aggressive, safe and reliable, producing natural and rested-looking results. To schedule a face lift consultation with Dr. Moynihan at Gold Coast Plastic Surgery in Chicago, IL, please call 312.988.9300 to learn more about the many benefits of face lift surgery.